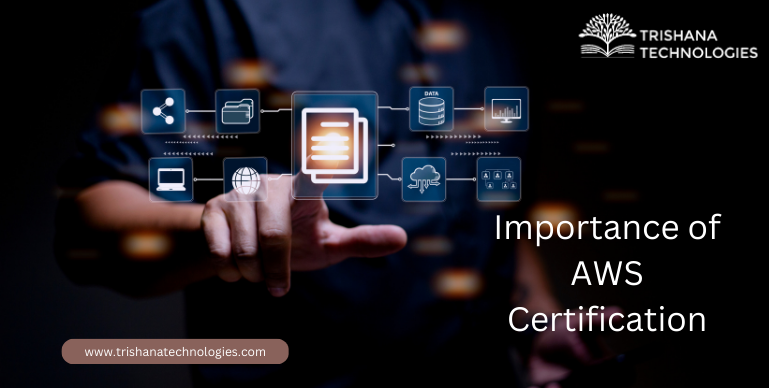 Why AWS Certification is Important?
Why AWS Certification is Important?

With the advancement of technology, many new aspects of information technology have emerged as a prerequisite for the IT infrastructure in the current competitive scenario. Cloud computing is one of the new aspects that has taken the world by storm. The popularity of cloud computing is since it is accessible from anywhere in the world without the fear of losing data. Thus, businesses and IT companies are transferring all their legacy system, applications, and business infrastructure to the cloud. AWS, or Amazon Web Services, is a system that provides cloud computing services, and it is one of the most popular cloud providers in the world. Looking at the gaining popularity of AWS, you might want to take an AWS training in Bangalore to make yourself competent for the future job market.

In simpler words, AWS is a platform that provides scalable and cost-effective cloud computing solutions to IT companies across the world. This platform is easy to use and offers different features like storage, analytics, content delivery, applications services, networking, etc. Businesses are now exploring opportunities to reduce costs and increase productivity. Thus, they started moving from in-house services to cloud-based services. The world is seeing a rise in the demand for an AWS professional in different businesses, be it small or large-scale, and IT companies. An AWS certification makes any job applicant a great fit for the role as the businesses consider them a proficient professional. With so many courses available for AWS certification, you must go for efficient
AWS training in Bangalore
that increases your chance of getting selected for a job role.
Benefits of Having an AWS Certification

Now that we have learnt what cloud computing and AWS basically are, we can proceed to the next part, i.e., the importance of having an AWS certification in the current market. Amazon Web Services has topped the list of cloud-based service providers in the world because of its cost-effectiveness and scalability. It can provide cloud computing services to different sizes of businesses. Most importantly, AWS provides cloud services in an impressively secure way to monitor, maintain, and protect data centres.

An AWS training in Bangalore provides trainees with a comprehensive study and practical experience of cloud computing using Amazon Web Services. Candidates may have to go through a re-certification in an interval of two years. This re-certification ensures that the trainees or professionals are aware of the current cloud trends with an updated AWS system. Here are the benefits of an AWS certification in the current business scenario-
1.Cloud Computing is the Future of Business Infrastructure
Because of the efficiency, time-saving properties, and economic approach, cloud computing services like AWS is high demand. Every business, irrespective of its scale and size, is looking for a cloud expert that can take care of the business technologies. Thus, there is an increased opportunity for jobs for cloud experts. AWS certification helps an individual get recognized as a skilled and professional cloud expert. The popularity of the cloud is ever-growing, and so is the appeal for a skilled AWS professional. You must look for AWS training in Bangalore so that you can compete with other applicants with conviction.

2. Develop Your Skill as a Cloud Professional
Business technology is a steep learning curve that enables you to upskill yourself with new possibilities. AWS certification is something that requires a thorough study of cloud computing and market research. You need to be hardworking, practise your skills, and commit yourself to learning as much as possible. Additionally, the re-certification allows the candidates to stay updated with the current trends on the aspect of AWS or the overall updated cloud computing system. That means you need to be an expert to gain a certification in AWS. An AWS certification enables an induvial to expand their skills and be eligible for different roles related to the cloud. When you go for AWS training in Bangalore, it improves you as a skilled professional in the field of cloud computing.

3. Increase the Chances of Your Resume being Considered
Businesses or employers always look for skills and expertise in a certain field of profession. An AWS certification attests to your cloud computing abilities and increases your potential as a prospective jobholder. Nowadays, training certifications are more important than your marks in a certain subject. There are a lot of MNCs that look for a certified and experienced employee than a top scorer. When your resume highlights the AWS training certificate, companies take you seriously as they immediately conclude that you will be following standard business practices while executing a certain job. Thus, your AWS certification increases your chances of being hired by businesses.
4. AWS certifications Makes You Eligible for the Role of an AWS Partner
After securing a certification by doing AWS training in Bangalore, you might now be thinking about how your career is going to take flight. Certification in AWS opens a window of scope for upskilling and increasing your eligibility for different job roles. One such role is that of an AWS partner. This sector is always looking for certified AWS professionals. As an AWS partner, you can access multiple resources and more training to offer efficient customer support and methodical delivery of advanced cloud solutions.

5. It Makes You Eligible to Earn More
As a certified AWS professional, there are a lot of scopes to progress and get hired by big businesses. An AWS certification gives you recognition as an experienced cloud expert who has a thorough learning of business insights, the latest market trends, and the prospects of the cloud. When experience and certification are combined, it elevates a person as an expert and increases their chances of earning more. Glassdoor affirms the average salary of an AWS professional in India is about the average Rs. 6,07,000 per annum.

6.Freelancers are Benefitted More
Freelancers are those who get maximum benefits from an AWS certification. As a freelancer cloud expert with an AWS certification, you get more projects to manage. You are also eligible for a digital badge that certifies your credibility to the clients. This allows you to explore an array of marketing opportunities as a freelance cloud expert. This could be a great source of income while working from home. What could be a perfect reason to get AWS training in Bangalore?
Conclusion
The rising demand for trained and certified AWS professionals is what makes AWS certification essential in the cloud computing market for individuals and businesses. It effectively increases your potential as a cloud expert and holds your position as a skilled professional. This is essential if you want to stay relevant in the ever-changing marketing world.