About the Courses
IOT or Internet of things is a buzzword nowadays. However, most of the people are unaware of this concept and its raising popularity. The easiest explanation of IOT is that it is the virtual internet connection of each and every thing which is present around us and can be operated or managed over the internet. Since this concept is rapidly gaining popularity, one can consider learning it to give boost to their professional skills in technology. You can take up class room training or online training to learn this concept; however, it is necessary to choose a genuine institute to attain the certification.
What is IOT?
Internet of Things or IOT is a complete bionetwork of interconnected physical objects which can be handled, managed and accessed through internet. The main focus of IOT is physical Device networks, vehicles and homes. Also, other objects which are embraced in electronics, software sensors and connectivity mostly have embedded IOT technology. Broadly, everything which comes under the internet of things must be able to connect with the other objects and also intermingle the information.
Course Highlights
The prime focus of the institute is to make the aspirants adept with the industry work culture. Therefore, the professional tutors have an elaborate discussion with various industry experts post which they structure the courses.


1000+ careers have been shaped by the tutors who continue to train plethora of students who wish to be IOT experts.


Since Trishana Technologies is a renowned institute, the certification attained from here helps the students in getting placed with some of the best MNC's

Trishana Technologies has a separate placement assistance cell which helps the students in getting placed with reputed companies across the globe.



Free
Live Demo

Hands on
Practicals/Project

One year
Course Validity

100%
Placement Assistance

Individual
Attention

24 X 7
Expert Support

Training from
Industrial Experts

Certification
for Course
Curriculum
Introduction
Internet of Things (IoT) and Web of Things (WoT): What's WoT?
IoT Devices
IoT Devices vs. Computers
Trends in the Adoption of IoT
IoT Is Powerful and Pervasive
Risks, Privacy, and Security
IoT Example: The Refrigerator
Interoperability in IoT
Introduction to Arduino Programming
Integration of Sensors and Actuators with Arduino
Introduction to Raspberry Pi
Implementation of IoT with Raspberry Pi
Introduction to SDN
How each of the above would be applicable in our hands-on project
Installation of various packages necessary for project and list of tools
IoT Communication Protocols
Machine-to-Machine Communications
Understanding MQTT Protocol Basics
How it works?
Broker and client terminologies
Publisher and subscriber model
Cloud Computing
Communicating with the Cloud using Web Services.
Cloud Computing & IoT.
Popular Cloud Computing Services for Sensor Management.
Smart Cities and Smart Homes
Case Study: Agriculture, Healthcare, Activity Monitoring
Career Opportunities
IOT specialist leader
IOT solution specialist
IOT sales specialist
IOT cloud specialist
IOT channel executive
Upcoming Batches
OCT 03
Mon-Fri (45 Days)

FILLING FAST


7AM -11AM, 4PM - 9.30PM.
OCT 01
SAT-SUN (45 Days)

FILLING FAST


9AM to 1PM & 2PM to 9.30PM
IOT Certification
About more than 1000 top companies has recognized Trishana Technologies certifications globally.
Download the certificate once you,
Complete our IOT Training program
After successfully Completing the Realtime Industry projects
Successful completion of given assignments
Certification images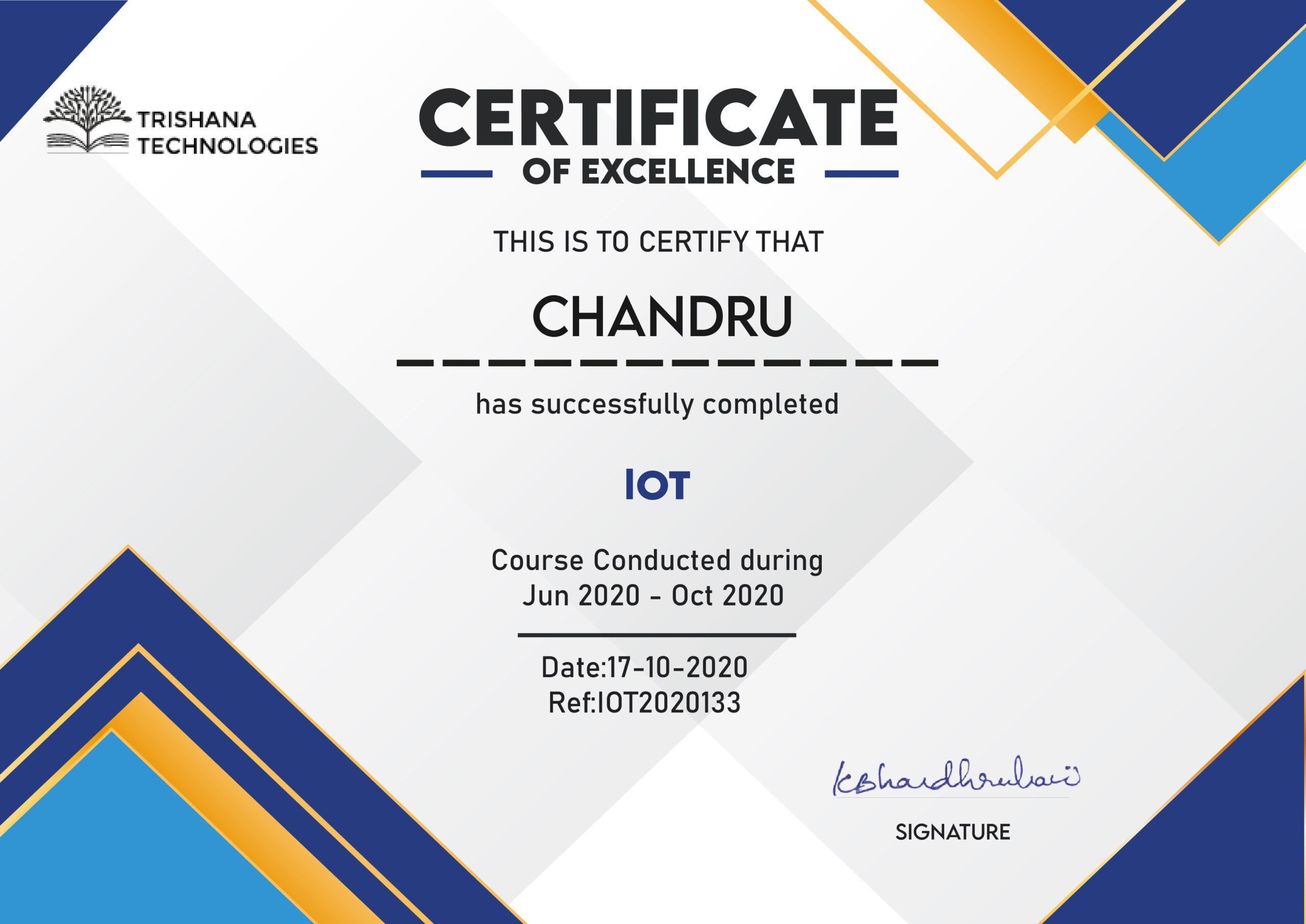 Testimonials

Trainer toufiq. took aws and devops for me. as a fresher devops topics are vast for me. but i gained good and clear knowledge from him. mock exam was really helping me to clear global certificate for aws .
- AWS and Devops Certified

I done Python online classes under Jalavathi trainer. Training sessions was completely practical oriented, reasonable course fees and even more flexible timings too. She shared all the useful soft copies documents whenever i required. Thank u so much especially cleared my doubts whenever i asked to you. Such a nice management they coordinated very well!! Thanks Trishana technologies team!!!

I attended a couple of python demo class in some other institutes in Bangalore before knowing about Trishana Technologies but after i attended here i liked my trainer Kiran sir way of teaching, trainer experience ,amazing classroom infrastructures . Completely satisfied with all the things they assigned to me. Thank u so much for such a wonderful experience of learning. This is the best Python training institute in Bangalore.

Absolutely recommend Trishana technologies for Python training. Best Python Training in Bangalore. Course lasted close to 50 hours including good amount of time spent on application of theoretical knowledge. Trainer was able to clarify all the doubts and has in depth knowledge on Python and data science. Don't miss Trishana if you are looking to upskill in Python.

Best AWS training in Bangalore. I can confidently say that Trishana Technologies provides the best Solutions Architect training in Bangalore. The course is designed with future needs and the syllabus is 80% job oriented with 20% emphasis on theory. Excellent place to become a certified solutions architect.

I learned Python online course here. My training based on mostly hands on practical session. Thanks to Trishana Technologies for giving such opportunity to learn. I refer Trishana Technologies is the best Python online training institute in Bangalore.

I joined for aws online courses here.. My trainer is very experienced in teaching the concepts based on industrial oriented. Timings was so flexible and course fees was so reasonable. Thanks to my trainer and Trishana team.Surely, i can refer all my friends to join the aws course here!!

I took python - online training here, trainer Jalavathi was very supportive. it helped me a lot to upgrade. its full of practical class..

It was such a nice experience by learning AWS course from trainer Raghu. He is a nice experienced person in teaching things and even more friendly while clearing the queries which i faced during and after the training as well. Soft copies, Interview tips and answers also provided during my training! Simply amazing infrastructure! This is the best AWS training institute in Bangalore!!

Best institute to learn selenium course in Bangalore. I did selenium course through online live classes. Instructor teaching was excellent which was very helpful for me to crack the interview. Thanks to trishana Technologies.

Best online classes for aws course. i took couple of demo. but not satisfied. trishana trainer toufiq is best tutor in delivering the content. with the great knowledge.

I took python online training, services was good, and trainer kiran also has a good knowledge about python as well as a data science. most of the classes are test cases only. it really helped me. thank you

Excellent institute to learn Python course in Bangalore. Had a pleasant experience right from the beginning. Training is practical and content is spread well over the two months.

Took data science course in trishana technologies, bala really helped me to choose the course as a fresher. trainer kiran sir taught me very well.

I take online class for data science bcoz of this covid situation. training was absolute fine and worthy, 2months 14k. thanks to trainer kiran and bala
Whatsapp