About the Courses
Big Data is exactly what the name represents, a huge amount of data which is so large and complex that traditional processing tools are not able to process. There are also different types of data such as structured, semi-structured and unstructured data. However, this mixed type of data contains many valuable information which are important to Governments and Businesses. Thus, many governments and a huge number of multinational companies are investing in storing and analyzing this Big Data. To capture, store and analyze this much amount of data, lot of new methods and data processing models were developed.
What is Data Analytics?
Data Analytics is the process of cleaning, modelling and analysing the data to obtain useful information which may suggest conclusions or support decision making. Data analytics is primarily used in commercial business to obtain crucial information that will affect important decisions like where to invest and when to invest. It is also used by Governments to understand the mind set of people and to predict the near future incidents like inflation and riot. With the arrival of Big Data, Data analytics is becoming a Billion dollar industry with investments increasing many fold in last few years.
Why to enrol in Big Data Analytics training at Trishana Technologies, Bangalore?
Big Data Analytics may be a challenging task in software field and in other training institutes as well but here, at Trishana Technologies, Big Data Analytics is like just another subject of your school syllabus. Do you know why? Because we have such expert Data Scientists as trainers who can teach every concept in Big Data Analytics institute near me simple as humanly possible. Our syllabus and materials are designed in accordance with the expectations of the industry and includes all the latest tools used in Big Data Analytics including R language, Hadoop framework etc. No other institutes will teach you these tools as they are full-fledged courses in their own but we choose our students first priority and help you master these tools. We also conduct elaborate training sessions for you to implement all the concepts and methods you learned in the classrooms. We also provide best-in-class placement support with mock interviews, interview material and off campus placements.

Free
Live Demo

Hands on
Practicals/Project

One year
Course Validity

100%
Placement Assistance

Individual
Attention

24 X 7
Expert Support

Training from
Industrial Experts

Certification
for Course
Curriculum
Data Analytic Methods Using R
Introduction to R
Analyzing and Exploring the Data
Model Building and Evaluation
Career Opportunities for Big Data Analytics Training
Software Engineer – Analytics & Big Data
Backend Developer – Big Data Analytics
Data scientist
Data analyst
Consultant – Big Data
Solution Architects
Big Data Analytics course near me
Upcoming Batches
Jun 06
Mon-Fri (45 Days)

FILLING FAST


7AM -11AM, 4PM - 9.30PM.
May 31
Mon-Fri (44 Days)

FILLING FAST


7am to 11am & 5pm to 9.30pm
Bigdata Certification
About more than 1000 top companies has recognized Trishana Technologies certifications globally.
Download the certificate once you,
Complete our Bigdata training program
After successfully Completing the Realtime Industry projects
Successful completion of given assignments
Certification images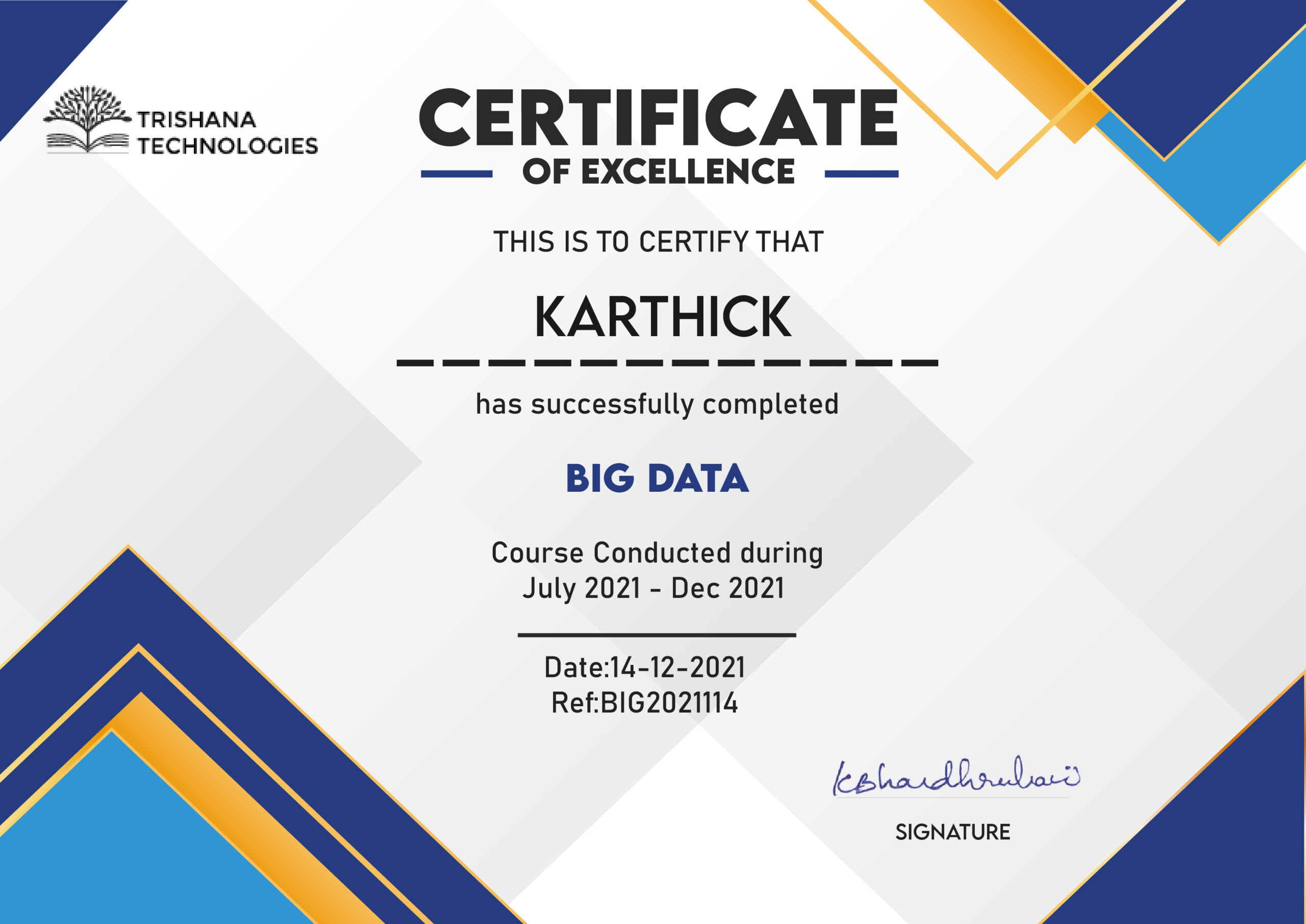 Testimonials

Trainer toufiq. took aws and devops for me. as a fresher devops topics are vast for me. but i gained good and clear knowledge from him. mock exam was really helping me to clear global certificate for aws .
- AWS and Devops Certified

I done Python online classes under Jalavathi trainer. Training sessions was completely practical oriented, reasonable course fees and even more flexible timings too. She shared all the useful soft copies documents whenever i required. Thank u so much especially cleared my doubts whenever i asked to you. Such a nice management they coordinated very well!! Thanks Trishana technologies team!!!

I attended a couple of python demo class in some other institutes in Bangalore before knowing about Trishana Technologies but after i attended here i liked my trainer Kiran sir way of teaching, trainer experience ,amazing classroom infrastructures . Completely satisfied with all the things they assigned to me. Thank u so much for such a wonderful experience of learning. This is the best Python training institute in Bangalore.

Absolutely recommend Trishana technologies for Python training. Best Python Training in Bangalore. Course lasted close to 50 hours including good amount of time spent on application of theoretical knowledge. Trainer was able to clarify all the doubts and has in depth knowledge on Python and data science. Don't miss Trishana if you are looking to upskill in Python.

Best AWS training in Bangalore. I can confidently say that Trishana Technologies provides the best Solutions Architect training in Bangalore. The course is designed with future needs and the syllabus is 80% job oriented with 20% emphasis on theory. Excellent place to become a certified solutions architect.

I learned Python online course here. My training based on mostly hands on practical session. Thanks to Trishana Technologies for giving such opportunity to learn. I refer Trishana Technologies is the best Python online training institute in Bangalore.

I joined for aws online courses here.. My trainer is very experienced in teaching the concepts based on industrial oriented. Timings was so flexible and course fees was so reasonable. Thanks to my trainer and Trishana team.Surely, i can refer all my friends to join the aws course here!!

I took python - online training here, trainer Jalavathi was very supportive. it helped me a lot to upgrade. its full of practical class..

It was such a nice experience by learning AWS course from trainer Raghu. He is a nice experienced person in teaching things and even more friendly while clearing the queries which i faced during and after the training as well. Soft copies, Interview tips and answers also provided during my training! Simply amazing infrastructure! This is the best AWS training institute in Bangalore!!

Best institute to learn selenium course in Bangalore. I did selenium course through online live classes. Instructor teaching was excellent which was very helpful for me to crack the interview. Thanks to trishana Technologies.

Best online classes for aws course. i took couple of demo. but not satisfied. trishana trainer toufiq is best tutor in delivering the content. with the great knowledge.

I took python online training, services was good, and trainer kiran also has a good knowledge about python as well as a data science. most of the classes are test cases only. it really helped me. thank you

Excellent institute to learn Python course in Bangalore. Had a pleasant experience right from the beginning. Training is practical and content is spread well over the two months.

Took data science course in trishana technologies, bala really helped me to choose the course as a fresher. trainer kiran sir taught me very well.

I take online class for data science bcoz of this covid situation. training was absolute fine and worthy, 2months 14k. thanks to trainer kiran and bala
Whatsapp