About the Courses
Android is a user-friendly mobile operating system developed by Google for touchscreen devices mainly smartphones. This is the important reason for the swift upsurge of Smartphone users in the last decade. More than 75% of all the smartphones run on Android platform. Android is designed based on Linux and primarily uses direct manipulation like touch and virtual keyboard. Though the first commercial version was released in 2008, it has gone through many major developments with the current version being 8.0 (Oreo). Since Android is available freely, anyone can build their own applications (apps) on Android and upload their apps to Google Play store through which they can earn money as subscription or initial fees to download their app. As of May 2017, Android has the largest installed base of any operating system.
Why to enrol in Android training at Trishana Technologies, Bangalore?
At Trishana Technologies, we offer a comprehensive Android training which includes basic Java and C using which Android is written, SQL which is frequently used in Android, Android Debug Bridge (ADB) and Android Emulator. Traditionally, Android training institutes teach you only how to create apps in IDEs. But our training makes you develop Android apps from the scratch. By this method, you will know every concept and method used and can develop Android apps anywhere. We train you in the most recent version of Android and encourage you to develop your own apps as practice. We will provide you all the software and support you need to practice at home or at our lab. We also conduct webinars often to increase your exposure about Android development in industries. We provide the best placement support and ensure that all of our students are well placed and got their dream job as soon as they had completed the course.

Free
Live Demo

Hands on
Practicals/Project

One year
Course Validity

100%
Placement Assistance

Individual
Attention

24 X 7
Expert Support

Training from
Industrial Experts

Certification
for Course
Curriculum
JAVA Concepts
OOPs Concepts
Inheritance in detail
Exception handling
Packages & interfaces
JVM & .jar file extension
Multi-threading (Thread class & Runnable Interface)
SQL
DML & DDL Queries in brief


Introduction to Android
What is Android?
Setting up development environment
Dalvik Virtual Machine & .apk file extension


Fundamentals
Basic Building blocks – Activities,Services,Broadcast Receivers & Content providers
UI Components – Views & notifications
Components for communication -Intents & Intent Filters
Android API levels (versions & version names)
Application Structure (in detail)
AndroidManifest.xml
uses-permission & uses-sdk
Resources & R.java
Assets
Layouts &Drawable Resources
Activities and Activity lifecycle
First sample Application
Emulator-Android Virtual Device
Launching emulator
Editing emulator settings
Emulator shortcuts
Logcat usage
Introduction to DDMS
Second App: (switching between activities)
Develop an app for demonstrating the communication between Intents
Basic UI design
Form widgets
Text Fields
Layouts
[dip, dp, sip, sp] versus px
Examples
Preferences
SharedPreferences
Examples
Menu
Option menu
Context menu
Sub menu
menu from xml
menu via code
Examples
Intents (in detail)
Explicit Intents
Implicit intents
Examples


UI design
Material Design
Time and Date
Images and media
Composite
AlertDialogs & Toast
Popup
Examples
SQLite Concepts
SQLite Programming
SQLiteOpenHelper
SQLiteDatabase
Cursor
Reading bookmarks
Adapters and Widgtes
Adapters
ArrayAdapters
BaseAdapters
ListView and ListActivity
Custom listview
GridView using adapters
Gallery using adapters
Examples
Threads
Threads running on UI thread (runOnUiThread)
Worker thread
Handlers & Runnable
AsynTask (in detail)
Examples
Live Folders
Using sdcards
XML Parsing
JSON Parsing
Maps, GPS, Location based Services
Upcoming Batches
OCT 03
Mon-Fri (45 Days)

FILLING FAST


7AM -11AM, 4PM - 9.30PM.
OCT 01
SAT-SUN (45 Days)

FILLING FAST


9AM to 1PM & 2PM to 9.30PM
Android Certification
About more than 1000 top companies has recognized Trishana Technologies certifications globally.
Download the certificate once you,
Complete our Android training program
After successfully Completing the Realtime Industry projects
Successful completion of given assignments
Certification images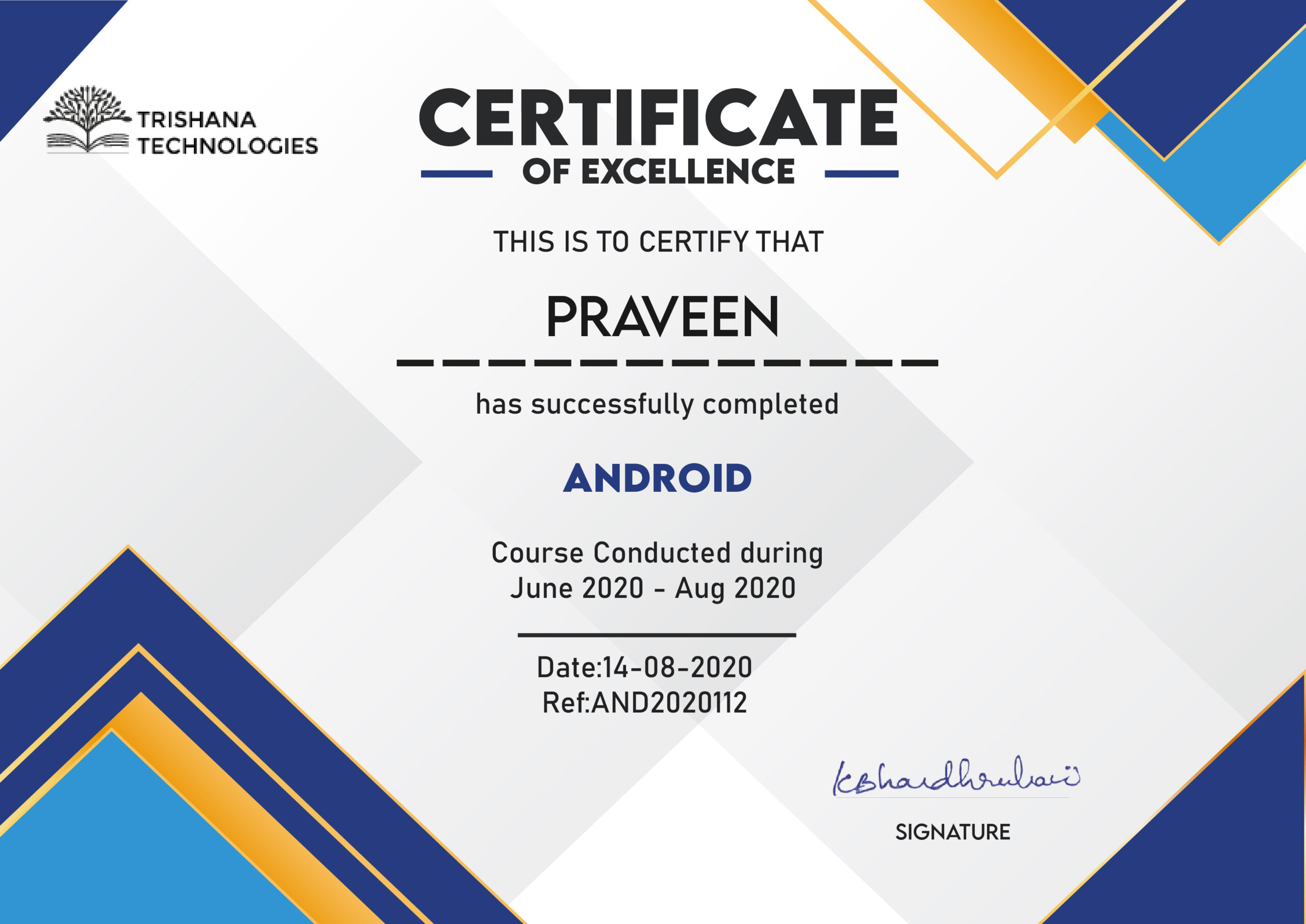 Testimonials

Trainer toufiq. took aws and devops for me. as a fresher devops topics are vast for me. but i gained good and clear knowledge from him. mock exam was really helping me to clear global certificate for aws .
- AWS and Devops Certified

I done Python online classes under Jalavathi trainer. Training sessions was completely practical oriented, reasonable course fees and even more flexible timings too. She shared all the useful soft copies documents whenever i required. Thank u so much especially cleared my doubts whenever i asked to you. Such a nice management they coordinated very well!! Thanks Trishana technologies team!!!

I attended a couple of python demo class in some other institutes in Bangalore before knowing about Trishana Technologies but after i attended here i liked my trainer Kiran sir way of teaching, trainer experience ,amazing classroom infrastructures . Completely satisfied with all the things they assigned to me. Thank u so much for such a wonderful experience of learning. This is the best Python training institute in Bangalore.

Absolutely recommend Trishana technologies for Python training. Best Python Training in Bangalore. Course lasted close to 50 hours including good amount of time spent on application of theoretical knowledge. Trainer was able to clarify all the doubts and has in depth knowledge on Python and data science. Don't miss Trishana if you are looking to upskill in Python.

Best AWS training in Bangalore. I can confidently say that Trishana Technologies provides the best Solutions Architect training in Bangalore. The course is designed with future needs and the syllabus is 80% job oriented with 20% emphasis on theory. Excellent place to become a certified solutions architect.

I learned Python online course here. My training based on mostly hands on practical session. Thanks to Trishana Technologies for giving such opportunity to learn. I refer Trishana Technologies is the best Python online training institute in Bangalore.

I joined for aws online courses here.. My trainer is very experienced in teaching the concepts based on industrial oriented. Timings was so flexible and course fees was so reasonable. Thanks to my trainer and Trishana team.Surely, i can refer all my friends to join the aws course here!!

I took python - online training here, trainer Jalavathi was very supportive. it helped me a lot to upgrade. its full of practical class..

It was such a nice experience by learning AWS course from trainer Raghu. He is a nice experienced person in teaching things and even more friendly while clearing the queries which i faced during and after the training as well. Soft copies, Interview tips and answers also provided during my training! Simply amazing infrastructure! This is the best AWS training institute in Bangalore!!

Best institute to learn selenium course in Bangalore. I did selenium course through online live classes. Instructor teaching was excellent which was very helpful for me to crack the interview. Thanks to trishana Technologies.

Best online classes for aws course. i took couple of demo. but not satisfied. trishana trainer toufiq is best tutor in delivering the content. with the great knowledge.

I took python online training, services was good, and trainer kiran also has a good knowledge about python as well as a data science. most of the classes are test cases only. it really helped me. thank you

Excellent institute to learn Python course in Bangalore. Had a pleasant experience right from the beginning. Training is practical and content is spread well over the two months.

Took data science course in trishana technologies, bala really helped me to choose the course as a fresher. trainer kiran sir taught me very well.

I take online class for data science bcoz of this covid situation. training was absolute fine and worthy, 2months 14k. thanks to trainer kiran and bala
Whatsapp